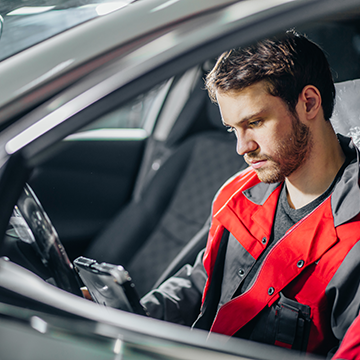 SERVICE
At Honda de la Capitale, we have the expertise to quickly determine the mechanical and aesthetic needs of your vehicle. Early detection of any mechanical problem reduces the risk of premature wear of parts and components of your car. Our team of professionals works quickly and efficiently.
Our staff will ensure your satisfaction throughout the maintenance of your vehicle. You will be received at Honda de la Capitale in a friendly and accommodating service department. Our priority is your peace of mind when you leave at the wheel of your vehicle. Do not hesitate to ask questions to team members who will take the time to answer you in a courteous and clear manner.
Either for a simple oil change or for a major repair, Honda de la Capitale will exceed your expectations with outstanding service. We will make the necessary adjustments and repairs to optimize the performance and efficiency of your vehicle. Keep your vehicle a long time and in perfect condition by entrusting it to our experts. Enjoy the skill of our members by planning your next maintenance at Honda de la Capitale today.

PARTS
Your Honda de la Capitale dealer has a complete inventory of original car parts. Our technicians use high quality mechanical parts in order to meet Honda's high standards. Thanks to our large inventory of available parts, repairs, adjustments and replacements are faster and more efficient. If we do not have the necessary part, we'll get it delivered as soon as possible. Honda de la Capitale also offers a variety of automotive accessories that allow you to customize your vehicle. Learn about the multiple options available to you to make your vehicle unique.
Schedule a service appointment now at your Honda de la Capitale dealer.